Post by Heiji Koumori on Mar 31, 2015 15:02:53 GMT -5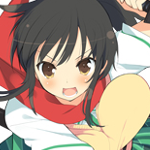 Well if they are talking about waifus that must mean they are into the characters as well and the story in some way so I doubt those people are going to hinder the story or make takaki just say MOAR FANSERVICE! just because they find other ways to be entertained by it that you don't agree with.
As for the story concerns you could of went to any warring ninja factions demon battling series other then the likes of naruto I'm sure there are few but you choose the one where fanservice separates it from the others? Idk man if naked anime girls are going to be a great tragedy for me I wouldn't even bother no matter how much I like some of the characters or their designs.
Anyway you have your beliefs on the topic so I'll leave it at that, don't want to seem like I'm trying to change your mind just curious about the oddity of the situation.
You're gorssly oversimplifying things (and to be honest I found somewhat insulting that "if you wanted to see ninjas fighting demons then you could've picked any other series).
I liked SK precisely because there was a story and well developed characters DESPITE the fanservice. The girls have sexy bodies and get into sexy shanenigans but well, that's something entirely natural. Within the game they weren't defined by their bodies, they were defined by their actions and convictions.
That make the series stand out (and believe me I've seen my good share of fanservice series and I never finish those) and gave it a great little niche.
Upping the fanservice in way so blatant is dissapointing because is turning off a lot peope and essentially, making the fanbase stale. Just see this comment I found on another board
I just saw a "Review" of the Senran Kagura EV OVA. Frontal nudity and a plot that revolved around a swimming pool. I don't know why I was still hopeful the series would get more serious. I think I'm dropping SK now before it goes full hentai.



I guess that's more moeny to spend on other Vita games.
I greatly enjoy the series and I want to share with all the people possible so in turns it only makes it bigger and better but this is not the way to do it.
And I'm all for people enjoying different stuff but these days the bulk of the fandom is so "poisonous" that they literally pile up on you if you don't like what they like.
I know that I'm very harsh and outspoken with my critics but I've never said that people shouldn't bought/enjoy something, just that
I
don't enjoy it.
Oh boy, I'm totally with you.
I love SK as a whole. The character design is charming and, of course, full of "life and hometown", that's good, but what make them great characters is the fact that they are unique and that they evolve after each installment.
SK without fanservice wouldn't be SK, but SK without his hidden dark story (all this yôma thing) neither.
For me, the most enjoyable thing is the charm of the characters and the plot. I'm not into the "waifu" thing.
If I only wanted tits and asses there are a lot of other animes, mangas and video games. If SK leaves the "darker" story only by the relative failure of one game... I will be disappointed.
By the way, I don't think the serious plot is going to be dumped. Right now Daidouji and Rin are fighting yôma and a lot of characters are in their last year before graduate. Some characters are indeed tied to all the yôma thing and want to become Kagura (not only Daidouji and Rin, but Miyabi and others too).
Are they really going to ignore all of this? I doubt it.
I think they are going to make a Senran Kagura 3, and after this another Versus and so. The main series with the more serious mood, and the VS with a lot of "waifus".