Post by andynpc on Aug 13, 2014 12:14:39 GMT -5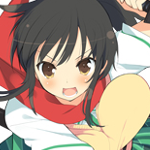 I heard that there was another move added that sort of works like the limitbreak but it doesn't cost health. I think I kind of like that more, especially if that move can't damage opponents like how it looked in the LP video.
I'm almost certain that the reason for the poor opening sales is because the series has been on the Vita since 2012 and the fanbase is mostly Vita owners, but another part of me really worries that it's because SK2 tried too hard. What I mean is; it really seems like they wanted this to be a serious brawler and not just a fanservice game. But Senran Kagura is in a market of games where the consumers are interested most in erotic content, so they didn't care about the gameplay improvements. Maybe I'm just being bitter about it, I don't know.
Yeah I agree with you. If more people are concerned about the gameplay, the number of people who played online in Senran SV won't be so small (only 30k of the 200k people activated their online pass). It seems lots of people just totally ignore the online modes and regard changing room as the main game lol. Imo the online vs modes of SV is really addictive that my playing time was 99% online matches. The AI are simply too dumb to be an adequate opponent. Even in Senran 2, the AI is still so bad that they don't even know how to escape from air X upon hit in air...
BTW the inochi kakei in senran 2 is another rather poor design, unlimited scrolls in inochi kakei is just absurd. I wish they keep the inochi kakei like it was in Senran Burst. In SV inochi kakei is also totally imbalanced that ruins the pleasure of the game easily.
That does sound pretty broken. Here I thought they improved that feature by adding the health drain, but I didn't know about the unlimited scrolls. It seems like that's just always a broken mechanic for SK.